"Ich kann es nicht umformulieren."
The documentary film "Seven Winters in Tehran" tells the story of a young Iranian woman who has been sentenced to death. In prison, she becomes a fighter for women's rights.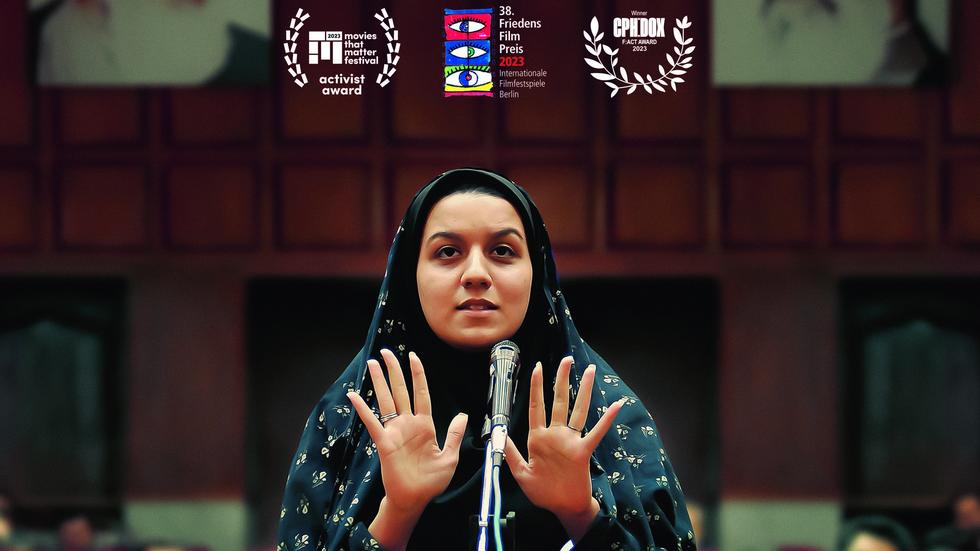 Ihre Geschichte soll weiterleben – Seite 1
When the documentary film Seven Winters in Tehran about the Iranian Reyhaneh Jabbari is released in German cinemas on September 14th, its release coincides almost exactly with the anniversary of the death of Jina Mahsa Amini. Jabbari was executed in October 2014 for stabbing a man who attempted to rape her. Amini, on the other hand, allegedly was beaten and arrested by the morality police on September 13, 2022, because her hijab was too loose. She fell into a coma during her detention and died a few days later.
Jabbari and Amini – two young women who had to die in their home country Iran due to inhumane legislation and interpretation. Not only are they connected by their fates, but also by numerous expressions of solidarity and open protest against the Iranian system, which were triggered by this solidarity.
The German-French co-production Seven Winters in Tehran, directed by Steffi Niederzoll, goes beyond simply depicting a judicial scandal and show trial. It portrays a young woman who manages to assert her autonomy and self-determination even while in captivity. Through secretly recorded phone conversations, diary entries, and letters that Jabbari was able to smuggle out of prison, a multifaceted portrait of this young woman emerges. She transforms from a sheltered student into a fighter for women's rights.
Man hört ihre
Schilderung der Tat: Ein Mann habe sie im Frühjahr 2007 in einem Café
angesprochen, er habe mitbekommen, dass sie als Innenarchitektin arbeite. Unter
dem Vorwand, dass er neue Praxisräume einrichten wolle, habe er sie in seine
Wohnung bestellt. Als sie dort angekommen sei, habe er sie aufgefordert, ihr
Kopftuch abzunehmen und sie bedrängt, Sex mit ihm zu haben. Sie habe daraufhin
ein Messer ergriffen und ihm gedroht, sie werde ihn erstechen. Er habe geantwortet, das würde sie niemals schaffen, er sei viel zu stark. Daraufhin habe sie
zugestochen.
The man, Morteza Abdolali Sarbandi, dies from his injuries. Reyhaneh Jabbari is arrested on suspicion of intentional murder – however, the police tell her parents that their daughter had committed a hit-and-run. The mother, Shole Pakravan, says that suspicions arose soon after that the case was "political". According to the Jabbari family and their later-appointed lawyer, Sarbandi was a former member of the Iranian intelligence agency. Therefore, the government desperately wanted to avoid any association of "one of them" with a sexual offense. This aligns with the information gathered by human rights organizations such as Amnesty International.
Was auf die Festnahme folgt, ist ein Prozess der Schuldumkehr. Die 19-jährige Jabbari wird
unter Druck gesetzt und gefoltert, damit sie ihre Aussage ändert. Zwei Jahre verbringt sie in Einzelhaft. Noch vor Prozessbeginn wird sie mit 30
Peitschenhieben bestraft – "wegen einer verbotenen Affäre ohne
Geschlechtsverkehr", wie die Mutter berichtet. In der Verhandlung stellt der
Richter zunächst auch Fragen zugunsten der Angeklagten, etwa, warum sich ein
gläubiger Familienvater wie Sarbandi allein mit einer fremden Frau in seiner
Wohnung aufgehalten habe. Er wird jedoch alsbald ausgetauscht. Der neue Richter
ist kein Jurist, sondern ein Angehöriger der Religionsgarde. Er habe ihr in der
Verhandlung gesagt, sie hätte sich vergewaltigen lassen und danach Anzeige
erstatten sollen, berichtet Jabbari ihrer Familie.
Das
Gerichtsurteil vom Dezember 2009 lautet auf vorsätzlichen Mord. Auf Antrag der
nächsten Verwandten, so sieht es das islamische Recht vor, wird die Angeklagte
zum Tod durch den Strick verurteilt.
The Jabbari family experiences all of this helplessly from a distance and can hardly make contact with their daughter. In Iranian media, they are portrayed as dysfunctional and neglected. Filmmaker Niederzoll spoke with Shole Pakravan and her two younger daughters, who have been living in Berlin for several years. Niederzoll did not film in Iran itself for security reasons, but she was able to use secret mobile phone recordings of the family, among other things, from prison. The filmmaker had replicas made of the images that cannot be shown, such as the cells of the infamous Shahr-e Rey prison where Jabbari spent the last years of her life. The dollhouse-sized models, with their bunk beds and gray blankets, come to life in the viewer's mind.
Opfer eines unmenschlichen Systems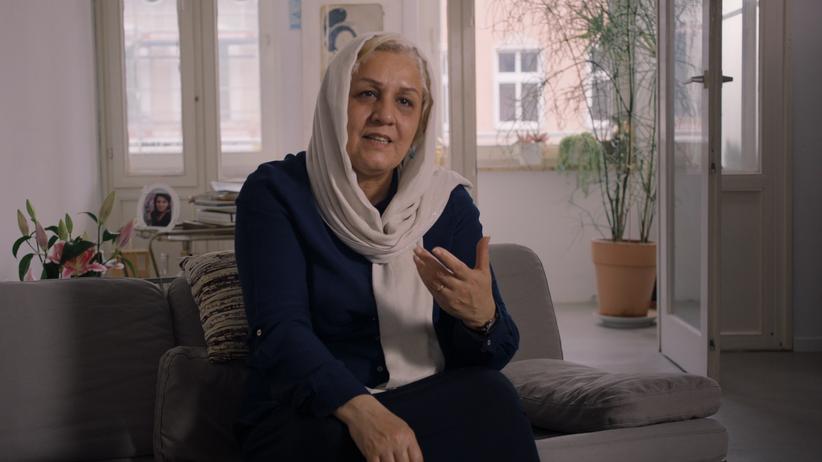 At the premiere of the film at the Berlinale in February, many female viewers were in tears. However, this does not mean that the director is playing with the emotions of her audience lightly. Niederzoll's documentary is very calm, as if she wanted to provide a solid framework for the outrageous injustice she describes. This becomes particularly noticeable when comparing "Seven Winters in Tehran" with the recently released film "Holy Spider," which also deals with violence against women in Iran. The story of a fanatically religious serial killer ends in a very ambiguous way, suggesting that justice is achieved through his execution.
In Sieben Winter in Teheran, the death penalty is described as a catastrophe for all parties involved, including the family of the victim. According to current law, the relatives of the victim must witness the execution. The oldest son of Morteza Abdolali Sarbandi, Jalal, is supposed to pull the stool from under the condemned person's feet. In one scene, Jabbari's mother describes a phone conversation with Sarbandi's wife and how she tries to achieve reconciliation between the parents. The only way to prevent the execution would be if the injured family forgives. The two women agree to have further phone calls – but Sarbandi did not answer their later calls, Shole Pakravan tells.
Auch der Sarbandi-Sohn
Jalal erscheint als Opfer eines unmenschlichen Systems, völlig überfordert mit
der Rolle, die ihm als neuem Familienoberhaupt aufgebürdet wird. Er willigt
schließlich ein, Jabbari zu vergeben, allerdings nur, wenn diese ihre Aussage
ändere und bestreite, sein Vater habe sie vergewaltigen wollen. Jabbari verweigert dies, zum Entsetzen ihrer Mutter. Die Jahre im Gefängnis hätten ihre
Einstellung gefestigt, sagt die zum Tode verurteilte Tochter, sie wolle sich nicht mehr verbiegen lassen.
Sieben Winter
in Teheran erzählt somit auch eine Emanzipationsgeschichte. Ausgerechnet in
Gefangenschaft erlebt Reyhaneh Jabbari zum ersten Mal eine Art von Freiheit.
Sie politisiert und emanzipiert sich, wird von ihren Mitgefangenen unterstützt
und entwickelt sich im Laufe der sieben Winter, die sie im Gefängnis verbringt, zu
einer Fürsprecherin der Rechte anderer Frauen. Mehrere ehemalige Gefangene berichten
im Film, wie Jabbari ihnen beigestanden und sie beschützt hätte. Auch Shole
Pakravan wird mehr und mehr zur Kämpferin für zu Unrecht Inhaftierte im Iran. Nur
ihrer eigenen Tochter kann sie nicht mehr helfen.
At the end of the documentary, a mobile camera captures the mother's face as she sits in the car outside the prison on the day of the execution, still hoping that the Sarbandi family will show mercy. The period of uncertainty about whether Jabbari can be saved or if she will be hanged is unbearable. However, the camera should have been turned off at the latest when the mother receives the news of her child's death.
How does one endure all of this? Shole Pakravan continues to fight for people who are persecuted or imprisoned in Iran, now from Berlin. Together with Steffi Niederzoll, she has written a book about her daughter's life: How to Become a Butterfly. After the film's premiere at the Berlinale, Pakravan told the Süddeutsche Zeitung that for the first time since her daughter's death, she was able to sleep without taking pills.
It was important to Jabbari that her story would survive. Seven Winters in Tehran gives her the opportunity to do so posthumously: "I, Reyhaneh Jabbari, am 26 years old. I am supposed to be hanged," the voice of the young woman can be heard in a phone recording. "But that doesn't scare me. I want to tell everyone my story. People should hear it and form their own judgment."
On September 16, the second anniversary of Jina Mahsa Amini's death, the pain and anger of numerous Iranians towards the oppression by the theocratic system could once again manifest in protests. It is likely that imprisonment and fatalities would ensue, as before.
"I cannot reword"