Heckler & Koch: Teil eines mörderischen Systems
Was Edmund Heckler dazu gezwungen, Zwangsarbeiter einzusetzen? Eine Studie entlastet den Mitgründer der Waffenfirma Heckler & Koch, bezeichnet ihn jedoch als Teil des brutalen Systems.
Artikel hören

Player schließen

Heckler & Koch

Hören sie hier die Audio Aufnahme des Artikels:

Teil eines mörderischen Systems

Ihr Browser unterstützt die Wiedergabe von Audio Dateien nicht. Download der Datei als mp3: https://zon-speechbert-production.s3.eu-central-1.amazonaws.com/articles/7f3b1a6d-3f78-4f23-80d1-dbb53e1ab5c1/full_f538281a4810e79a9afb6adfdcc1b08bb8809bfe48d2d082434ae965705a4606b7bc5dd347818a846e5bb50816887857.mp3

Mehr zu diesem Audioangebot

Die Audioversion dieses Artikels wurde künstlich erzeugt. Wir entwickeln dieses Angebot stetig weiter und freuen uns über Ihr Feedback.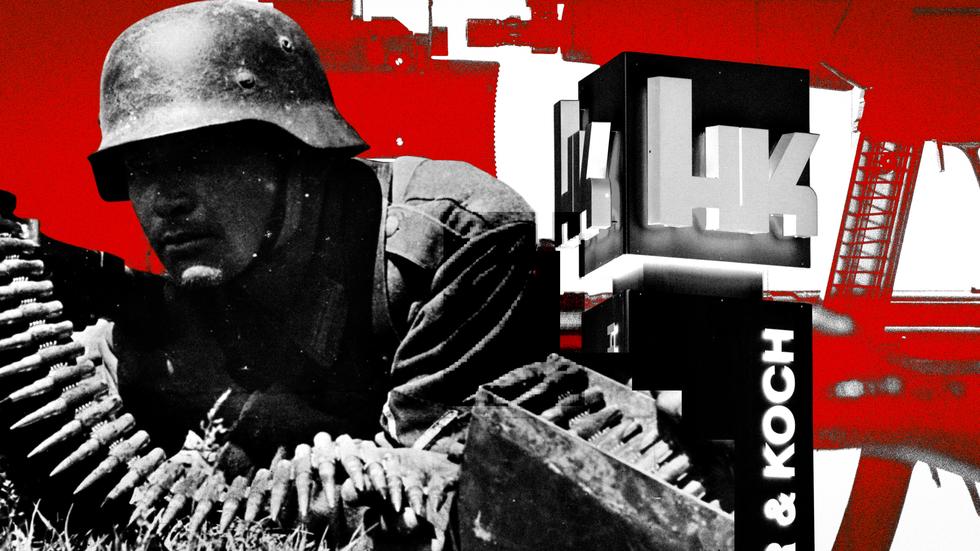 Teil eines mörderischen Systems – Seite 1
When the Wehrmacht is on the verge of defeat in the spring of 1945, with the Americans advancing towards Leipzig from the southwest and the Russians from the east, Paul Budin's world collapses. It is a world built on hatred, brutality, racism, and anti-Semitism. As one of the most important arms managers of the Nazi regime, Budin and his wife retreat to the headquarters of Hugo Schneider AG (HASAG) in Leipzig. Then, a massive explosion occurs there. Budin is believed to have detonated explosives and bazookas. The head of HASAG, a fanatical SS man, does not want to witness the end of the so-called Third Reich and flees into suicide.
One of his employees, on the other hand, has already prepared for the new times. Edmund Heckler from Oberndorf on the edge of the Black Forest ingratiates himself with the Americans, leading them through the Taucha plant near Leipzig, which he manages.
Heckler, who will later found the largest German small arms manufacturer Heckler & Koch, is considered an expert in ammunition production. The German, as noted by US officers, was very cooperative. However, the senior HASAG employees fail to disclose to the Allies that they had relied on forced labor in production. The company does not intend to contribute to the food and accommodation of these workers after the war – nor does it intend to help the former concentration camp prisoners who are now free but suffering. In a letter delivered by Heckler on behalf of a superior to the mayor of Taucha, it is stated that it is not the company's responsibility to provide for the few remaining prisoners in Taucha.
Was Edmund Heckler im NS-System
und in der Nachkriegszeit getan hat und was er zu verantworten hat, steht im
Zentrum einer Studie der Gesellschaft für Unternehmensgeschichte (GUG), die am
19. September erstmals der Öffentlichkeit präsentiert wird. Die Historiker der
renommierten Forschungseinrichtung aus Frankfurt am Main haben im Auftrag des
Gewehr- und Pistolenherstellers Heckler & Koch die Vorgeschichte des
Waffenbauers untersucht. Diesen Schritt ging das Unternehmen, nachdem die Bild
am Sonntag 2020 schwere Vorwürfe gegen Edmund Heckler veröffentlicht hatte. Dieser
sei bei der HASAG für den Einsatz von KZ-Gefangenen bei der Panzerfaustproduktion
verantwortlich gewesen. Nach der Veröffentlichung verlangten kritische
Aktionäre und Friedensgruppen die Umbenennung des Waffenbauers und der Heckler &
Koch-Straße am Firmensitz.
The research conducted by GUG, which is exclusively available to ZEIT ONLINE, now shows that Edmund Heckler was indeed employed in a managerial position at HASAG and was also granted power of attorney. However, he was in charge of a department within the company where no bazookas were manufactured and no concentration camp prisoners were employed. Therefore, the accusations made in the media are not true.
Ein Arbeitsleben in der Rüstungsindustrie
However, he was employed by a company that was involved in the extermination of people. "Heckler made the decision in 1936 to work in an arms company under an SS officer," states Andrea H. Schneider-Braunberger, the managing director of GUG. "At HASAG, Budin, a 100% Nazi, was in charge. He had close personal connections with the Reichsführer SS, Heinrich Himmler, and appointed many SS officers to important positions."
Edmund Heckler learned and studied at Mauser, a large arms company. When HASAG, which had been a purely civilian company until the Nazi Party took power in 1933, began arms production, they needed experts. Heckler moved to Leipzig and helped establish ammunition production. After the German attack on Poland in 1939, HASAG increasingly shifted towards arms production. Paul Budin, who had been the general director since 1932, used his proximity to SS leader Heinrich Himmler to obtain cheap labor. He was provided with concentration camp prisoners for arms production.
Edmund Heckler war nicht für KZ-Gefangene verantwortlich
"In the final phase of the war, the HASAG mobilized all forces to ramp up production of the Panzerfaust. Thousands of predominantly female prisoners from concentration camps were employed at various HASAG locations, including the branch in Taucha led by Heckler," state the researchers from GUG in their study. "However, this occurred in a new section of the facility for which Heckler, not him (Heckler, note by the editor), but another industrial engineer, was responsible." Heckler likely could not have been unaware of the atrocities committed against the exhausted concentration camp prisoners in the vicinity of his facility. However, he himself was never accused of any crimes.
"I cannot reword"
Eine aufwendige Recherche
The historians of the GUG have thoroughly investigated what Heckler did during the war. "We have conducted extensive research in Oberndorf, spoken with long-time residents, relatives of the founders, gathered information from the weapons museum, visited local and southwestern archives, and our team has extensively reviewed files from HASAG in Leipzig, the Federal Archives, and many other institutions," says Schneider-Braunberger. She emphasizes that the client has no influence on the work. "The independence of science is our highest priority, and this is also stated in all contracts we enter into with companies," she says.
Heckler & Koch ist eines von
vielen Unternehmen, die gerade die eigene NS-Vergangenheit oder die NS-Kontinuität
der Gründer aufarbeiten lassen. Die Debatte um den Kekshersteller Bahlsen im Jahr 2019
hat gezeigt, dass selbst große Konzerne noch Nachholbedarf haben.
Heckler & Koch had a commemorative publication created in 1999 for its 50th anniversary, but it barely addressed Heckler's past at HASAG. However, his time in Leipzig was not a secret. "Edmund Heckler apparently always provided accurate information about his time in Leipzig, such as in his denazification application. But in Oberndorf, his role at HASAG was quickly downplayed, for example by the mayor of the city," says Schneider-Braunberger. "He simply claimed that Heckler had been involved in civilian production in Leipzig, even though HASAG produced ammunition and weapons."
Together with other former Mauser employees, Heckler founded the globally renowned weapons manufacturer in Oberndorf. Heckler & Koch initially produced sewing machine parts. However, with the beginning of West German rearmament, the company switched to arms production. In 1958, the company still generated more revenue from sewing machine parts than from weapons. It was only in 1959 that the ratio shifted. The following year, Edmund Heckler passed away.
Das zur Hälfte nach ihm benannte
Unternehmen wird weiterhin seinen Namen tragen. "Die schweren Vorwürfe, die seinerzeit
erhoben worden sind, wurden durch diese Recherchen nicht bestätigt", sagt Bodo Koch,
der Chef von Heckler & Koch im Interview mit ZEIT ONLINE. Für das
Unternehmen ist Heckler ein Karrierist und Opportunist.
The GUG views him as "a cog in a brutal machine". Schneider-Braunberger notes: "Edmund Heckler actively supported the Nazi regime and even joined the NSDAP late. It remains unclear what he knew about the use of concentration camp prisoners at HASAG."