für Frauen in Afghanistan sind Schönheitssalons.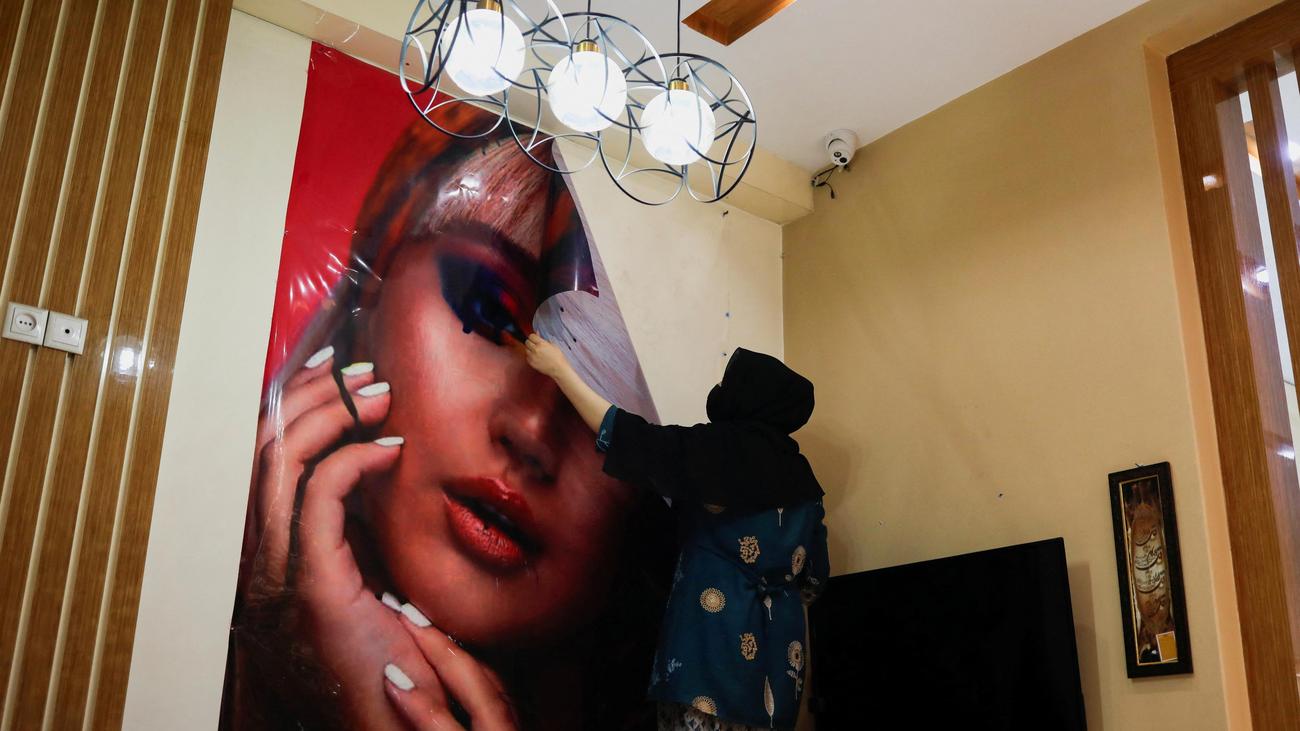 Der letzte sichere Raum – Seite 1
The "10 to 8" editorial team publishes articles irregularly from women who are living in great danger in Afghanistan since the withdrawal of the USA and its allies, or who have fled to third countries. We aim to show how the Taliban's seizure of power affects individuals. The "10 to 8" editorial team knows the authors personally through their networks and professional relationships. Some of the articles are written under extremely difficult conditions, and for the safety of the authors, they can only be published anonymously. Therefore, unlike usual on "10 to 8," these texts do not include a photo or a short bio of the authors. These articles only represent a small fraction of the individual stories that those working with Afghan women in Germany are currently aware of.
Afghanistans Schönheitssalons blicken auf eine bewegte Geschichte zurück: Als die Taliban das Land 1996 erstmals eroberten, zerstörten sie eine ganze Branche, sämtliche Salons mussten schließen. Nach dem Sturz der Terrorgruppe Ende 2001 nahmen die Salons ihre Arbeit wieder auf und in Kabul und anderen Städten entstanden für viele Frauen neue Erwerbsmöglichkeiten.
The beauty industry experienced steady growth, leading to large beauty salons competing at the city level. These salons had multiple branches in Turkey and the United Arab Emirates and were run by professional female entrepreneurs who imported their cosmetic products and tools from Dubai, providing many young women with the opportunity to train as beauticians. Each of these beauty salons had its own customer base, and during the period leading up to major holidays such as Eid al-Adha, Nouruz, or the Eid al-Fitr at the end of Ramadan, the salons were overflowing, with some locations operating late into the evening.
Die Schönheitssalons verlangten für ihre Dienstleistungen von ihren Kundinnen mitunter viel Geld. So konnte eine aufwendige Brautaufmachung in einigen dieser Betriebe zwischen 500 und 1.000 Dollar kosten, und es kam vor, dass Kundinnen sich über die Höhe dieser Preise beschwerten. Doch gleichzeitig entstanden durch die Salons wertvolle Erwerbsquellen für viele Frauen Afghanistans: In den kleinen Salons arbeiteten zwischen drei und fünf, in den großen zwischen 20 und 25 Auszubildende unter der Anleitung der Inhaberinnen. Das Einkommen der Kosmetikerinnen richtete sich nach der Anzahl ihrer Kundinnen und viele von ihnen brachten als Versorgerinnen ihre Familien damit durch.
Neben den von Frauen betriebenen Backstuben und den öffentlichen Badehäusern galten Schönheitssalons über Jahre hinweg als sichere Orte, an denen Frauen sich zusammenfinden und von Männern unbehelligt Zeit miteinander verbringen konnten. Nach der Machtübernahme der Taliban gehörten sie zu den letzten öffentlichen Orten, die Frauen noch blieben.
"I cannot reword"
"Ich kann es nicht umformulieren."
The beauty salons were places where women could socialize and encourage each other, which is now also denied to them. Some citizens believe that the Taliban's recent decision regarding beauty salons is part of a larger plan to confine women to their own homes.
The owner of a salon in Kabul reports: "Before the beauty salons were closed, the higher officials of the Taliban made us pay taxes for several years in advance. This has caused immense financial damage to me. It is simply outrageous that we cannot even work in areas that are exclusively for women. The oppression of women practiced in Afghanistan would be unthinkable in any other place in the world. Essentially, they are telling us that we have no right to live and they could kill us all. We have neither the means to spend our leisure time nor the right to study and education. Now they have taken away our beauty salons as well. There is truly no bad news that we haven't already heard."
Some of the owners are looking for solutions, they are determined to continue their work secretly from home. I visit two of these "home salons" in different neighborhoods. The first one belongs to one of the well-known salons in Kabul. The owner has rented a unit of three rooms in an apartment and transformed the space into a stylish, well-equipped salon where she employs ten women.
When I ask her about her clients, she tells me: "We are satisfied with the work in our new salon. Before the Taliban closed the salons, we had already rented this space and made arrangements with our clients to come here when the salons were closed. Currently, we are promoting our new salon through social media, but this carries a big risk as there is always the danger that the Taliban will find out about this place and close it as well. Sure, we are working and have a good income, but we are not relaxed and calm about it." She tells me that just a few days ago, the Taliban discovered a disguised salon that a woman had opened in her private apartment. The Taliban destroyed all her equipment, accused her of breaking the law, and arrested her.
The second house salon is located in a place far away from the city center. The owner lives in a modest four-room apartment, one of which has been converted into a salon. She is concerned about the decline in her customers: "My customers were housewives who often couldn't read or write and therefore couldn't even use WhatsApp. That's why I have lost contact with many of them, and they haven't reached out either. Why shouldn't women have the right to get their hair cut or eyebrows shaped? The Taliban taxed my salon, collected taxes for outdoor advertising, and controlled our businesses according to their own will, so why are they closing us down now?"
Despite the demands from Afghanistan and the international community to lift the significant restrictions on women, the Taliban have imposed even more obstacles for women. The United Nations Assistance Mission in Afghanistan (UNAMA) has stated in a statement on X (formerly Twitter) that such a policy will also harm the country's economy and contradict the expressed support for female entrepreneurs.
According to human rights activists, the Taliban's main goal is to restrict women's access to social life. They do not want women to become financially independent or see any progress in their lives. Razia Barakzai, a well-known women's rights activist, believes that if the Taliban continues to rule, this will not be the last decision to oppress Afghan women. Life under the control of this group will only become more challenging for women.
Aus dem afghanischen Persisch von Sarah Rauchfuß