Bergkarabach: Totenstille

Aus der Serie: 10 nach 8
Seit Wochen lässt Aserbaidschan die Enklave Bergkarabach aushungern. Will sich Deutschland seiner historischen Verantwortung stellen, muss es nun handeln.
Artikel hören

Player schließen

Bergkarabach

Hören sie hier die Audio Aufnahme des Artikels:

Totenstille

Ihr Browser unterstützt die Wiedergabe von Audio Dateien nicht. Download der Datei als mp3: https://zon-speechbert-production.s3.eu-central-1.amazonaws.com/articles/cc977c48-c28f-4d03-9ccc-a38e0b65a04d/full_fec545fbf72a94c2db86bdc477186621bd43d8d0943155a3ddf80c7033f9d6f0aac536505ee9b10fe63540c7eaa21ec6.mp3

Mehr zu diesem Audioangebot

Die Audioversion dieses Artikels wurde künstlich erzeugt. Wir entwickeln dieses Angebot stetig weiter und freuen uns über Ihr Feedback.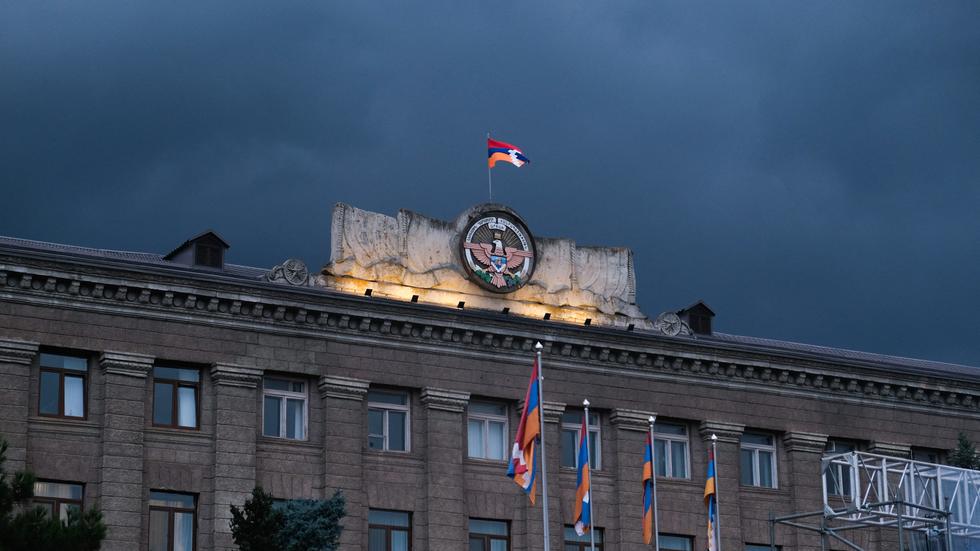 Totenstille – Seite 1
Wie
es wohl dem alten Mann ergeht, um dessen mit Lichterketten geschmückten Baum
wir im Garten den armenischen Kochari tanzten? Der sein Wohnhaus zur Verfügung
gestellt hatte für die Exilarmenier aus aller Welt, die dank eines Stipendiums auch
die Gelegenheit erhielten, Arzach zu besuchen? Heute wird sein Baum nicht
angestrahlt sein: In Arzach ist es dunkel. Und wer weiß, ob er überhaupt noch
am Leben ist.
Schulkinder
fallen regelmäßig in Ohnmacht vor Hunger, die Fehlgeburtenrate steigt, weil Mütter die Kleinen im Bauch
nicht mehr versorgen können, und kommt ein kleiner Mensch trotzdem auf die
Welt, hat seine Mutter aufgrund der Mangelernährung oft nicht einmal mehr
Muttermilch für ihr Neugeborenes. Verhungern, und mit dem nahenden Herbst auch
Erfrieren: Das Sterben der 120.000 ethnischen Armenier in Arzach ist eine Frage von Wochen – wenn Aserbaidschan nicht unter
Druck gesetzt wird, seine völkerrechtswidrige Blockade des Latschin-Korridors aufzugeben
und wenigstens humanitäre Hilfe durchzulassen.
Bergkarabach in die deutschen Medien vor.BergkarabachThe topic has become more well-known in Germany as newspapers and radio stations have been publicizing it in recent weeks. However, it is becoming quieter in Arzach. The news and pleas for help that were reaching the outside world through social media have stopped because Azerbaijan has cut off the internet to Arzach since mid-August. Every day, I wonder if the few people whose information was still reaching the outside world are still alive.
Suddenly, the trauma of genocide, which continues to exist in the descendants of the survivors after over 100 years, takes on a different tone for me – a disturbing relevance, a distressing despair. The people in Arzach are starving before the eyes of the world, while the German Foreign Office celebrates World Humanitarian Day. It remained silent about the situation in Arzach for months. We all sit here in Germany, either watching or looking away, and in this case, both are the same. Because this is not a natural disaster that could not have been better prepared for. It is a deliberate plan of annihilation, from which the people of Arzach can only escape if they allow themselves to be territorially assimilated by Azerbaijan – only to possibly be murdered in their own homes, as during Azerbaijan's pogroms in the 1990s.
The former chief prosecutor of the International Criminal Court, Luis Moreno Ocampo, refers to it as a genocide. The government spokesperson in Germany calls it propaganda. One wonders: why? Even during World War I, the foreign policy interests and the connection to the Ottoman Empire were strategically more important than the 1.5 million Armenians who fell victim to the first genocide, with the full knowledge of German diplomats. It took 101 years for the German Bundestag to conduct a historical examination that led to the recognition of the Armenian genocide. In the resolution, the Bundestag "regrets" the dishonorable role of the German Empire, which, despite clear information from German diplomats and missionaries about the organized expulsion and extermination of the Armenians, did not attempt to stop these crimes against humanity as the main military ally of the Ottoman Empire. The former Chancellor Angela Merkel and the former Foreign Minister Frank-Walter Steinmeier abstained from voting. Numerous protests by Turkish organizations preceded their decision.
However, despite the geostrategic interests that are always crucial for foreign policy considerations and which are now even more focused on Azerbaijan due to the Russian aggression against Ukraine, Germany bears responsibility. Even today. As a collaborator in the first genocide – and as a Western democracy in the 21st century. Human rights are indivisible. They cannot be measured in oil and gas and are also of geostrategic importance. By deciding not to be diplomatically active and exert sufficient pressure, Germany undermines its credibility regarding human rights as a cornerstone of our democracy. Only recently, nearly nine months after the start of the blockade, which we allowed Azerbaijan to carry out with our eyes wide open, Foreign Minister Annalena Baerbock expressed the need to open the Lachin corridor for humanitarian aid on the sidelines of an EU foreign ministers' meeting.
Welche
Botschaft aber sendete das lange Schweigen und vor allem die bisherige
Tatenlosigkeit? An die betroffenen, hungernden, sterbenden Armenier in Arzach? Sie
fühlen sich alleingelassen, verhöhnt. Im Westen sparen wir Energie, um die
Ukraine – zurecht – gegen Putin zu unterstützen, und beziehen dann Öl und Gas
von Aserbaidschan.
Was gerade droht oder passiert, ist Völkermord
What message does this send to those Armenians who have to live with the trauma of the genocide all over the world, believing that something like this would not happen again because the world would not allow a repetition?
And what message does it send to Azerbaijan that no one intervenes, not even forming an alliance for an air bridge? Hitler rhetorically asked in 1939, "Who still talks about the extermination of the Armenians today?" What devastating silence will dictators in the future adopt as their maxim and inhumane basis for action?
When I think of Arzach, I now think of genocide. I think of starving Armenians, of people whose lives seem to count less than the lives of others simply because these people do not possess valuable natural resources.
When I think of Arzach before the second Nagorno-Karabakh war, different images come to mind. I remember impoverished villages, houses still bearing the bullet holes from the first war, and their residents still telling stories of living side by side in friendly neighborhoods before the conflict, Armenians and Azerbaijanis. I recall earthy roads leading to rusty gates, from which children unexpectedly emerged, exclaiming, "There are guests!" The mothers, fathers, and grandparents would then come out, opening the gates wide and inviting me to stop: "Where are you from? Come in, let's slaughter a chicken and eat together!"
When I think of Artsakh, I envision flourishing landscapes, fertile and vibrant, and donkeys being led across the hills on long ropes: a scene that seems to have fallen out of time. I think of self-determined people who love the land they live on. I imagine the modern capital city, Stepanakert, with its exceptionally well-maintained infrastructure, inviting, clean, and radiant compared to the rural surroundings. I think of road construction projects, the airport, funded in part by donations from Armenian diaspora, who wanted to see Artsakh thrive again alongside its residents, after this region had been a source of pain in the hearts of many Armenians for decades.
And I think of the War Museum, where one can trace the history of the first Karabakh War, of the photos of the fallen, and of the shame that overwhelms me when I remember how much of it I considered exaggerated back then. Me, the German-Armenian, who questions everything. Only not giving one-sided belief to anyone, as the history is different from the German narrative. It takes two to argue. Today, I think: It also takes both sides for peace. But we don't have time for such discussions now. What is currently looming or happening is genocide. And while we still struggle for words and terms for this crime, fewer and fewer news reach us from Artsakh. It is getting quieter. Deadly quiet.